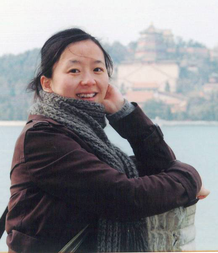 Aerosols in the Atmosphere of the Earth System: Air Pollution, Public Health and Climate Change
This event has passed. View the seminar recording here:
---

Prof.  Yafang Cheng
Head of Minerva Independent Research Group
Max Planck Institute for Chemistry
Guest professor
University of Science and Technology of China
Monday March 7, 2022, 2 PM ET
Abstract:
Aerosols, tiny solid particles or liquid droplets suspended in air, are key elements in the atmosphere of the Earth system, influencing air quality, climate and human health in the Anthropocene. They scatter or absorb sunlight, serve as nuclei for clouds and precipitation, and adversely affect human health. Aerosol formation and evolution involve detailed gas-phase atmospheric chemistry and gas-particle interactions. The interaction of aerosols with atmospheric water, as well as their size and physical properties, are key to much of their behavior. Our research mainly focused on (1) haze chemistry that drives the formation of extreme air pollution, (2) aerosol nano-size effects and phase transition, (3) aerosols' health and climate impact. The overall goal is to obtain a predictive understanding of the origin, fate, and impact of atmospheric aerosols to address the grand challenge of an actionable projection of future climate and environment in the Anthropocene.
Biosketch:
Yafang Cheng is the head of Minerva Independent Research Group at the Max Planck Institute for Chemistry since 2014. She is now also a guest professor at the University of Science and Technology of China. Yafang Cheng's work and ideas have been recognized internationally with Science Breakthroughs of the Year 2021 in Physical Sciences by the Falling Walls Foundation (2021), Atmospheric Sciences Ascent Award (mid-career) by the American Geophysical Union (2020), Schmauss Award by the German Association for Aerosol Research (2020), Minerva Program and Research Grant of MPG (2014-2021) etc. As lead author, she has published 3 papers in Science and 7 in Science Advances, PNAS, Nature Communications and Cell One Earth etc. Cheng has been recognized as a "Highly Cited Researcher" by Clarivate & Web of Science and "World's top 2% most-cited scientists" by Stanford University Analysis & Mendeley. Her recent work on understanding airborne transmission of SARS-CoV-2 (8) has become a key reference for authorities, media, and the public discourse about COVID-19, which is reflected by an outstanding AltMetric Score (>8700) and is ranked as number 12 of over 70 thousand publications in Science and top 0.001% of 19 million research outputs worldwide.
Webinar:
Webinar: https://go.umd.edu/chengwebinar
Event site: https://go.umd.edu/cheng
Webinar number: 2621 361 5202
Webinar password: essic
To join the audio conference only:
US Toll: +1-415-655-0002
Global call-in numbers
For IT assistance:
Cazzy Medley: cazzy@umd.edu
Resources:
Seminar schedule & archive: https://go.umd.edu/essicseminar
Seminar Google calendar: https://go.umd.edu/essicseminarcalendar
Seminar recordings on Youtube: https://www.youtube.com/user/ESSICUMD